We knew social media would be buzzing with the Winter Olympics taking place in Sochi, Russia. There was plenty of things to discuss heading into Sochi: construction problems, security and gay rights/protests, but then we learned via #SochiProblems about the hotel accommodations, vulnerability of immediately being hacked when you get on the Internet and more. Twitter captured it all!
Twitter also introduced us to Johnny Quinn. He's the U.S. bobsled member who instantly became famous not for his athletic ability, but for what happens when he got locked in his hotel bathroom in Russia.
…With no phone to call for help, I used my bobsled push training to break out. #SochiJailBreak pic.twitter.com/apZRefgvCO

— Johnny Quinn (@JohnnyQuinnUSA) February 8, 2014
And then two days later in the elevator…
No one is going to believe this but we just got stuck in an elevator. Ask @BOBSLEDR and @Crippsee who were there… pic.twitter.com/Rwg57CBbUU

— Johnny Quinn (@JohnnyQuinnUSA) February 10, 2014
Because the bathroom door jailbreak took off like wildfire on Twitter, celebs also took part in the trending Johnny Quinn, like this one from Gilbert Gottfried:.
True story. I once crashed through the bathroom door at The Tonight Show. Take that @JohnnyQuinnUSA . #Olympics pic.twitter.com/JO8ZVKX4ma

— Gilbert Gottfried (@RealGilbert) February 10, 2014
There is little doubt that Twitter is becoming a communication and social media focal point at the 2014 Winter Olympics, and taking on more news than anyone would've thought.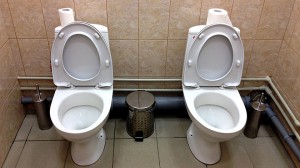 Leonid Bershidsky reported that there was toilet trouble at Sochi. "It all started Jan. 20 with a tweet by BBC journalist Steve Rosenberg. "Seeing double in the gentlemen's loo at the Olympic Biathlon Center," he wrote over a picture of two full, sit-down toilets installed side by side, with no partition between them. The picture was so absurd Rosenberg thought it merited a second tweet: "Just to make clear, this is not photoshopped. You can see my reflection in the flusher. The photo, retweeted more than 1,000 times, was an instant sensation on social networks."
It wouldn't be a true Twitter spectacle if it didn't include parody accounts. It didn't take long for Twitter to notice that NBC nighttime Olympic host Bob Costas had an eye infection. Unfortunately, it seemed to get worse each night. Naturally, next came @BobCostasEyes. While quick to take off, it pales in comparison to @BronxZoosCobra that temporarily escaped the Bronx Zoo for 6 days back in 2011. That fake account generated over 178,000 followers and still tweets weekly.
Who knows what will explode next in the Twitterverse. Checkout this infographic by Hootsuite on the social buzz of the Olympics:

Stay up-to-date on everything Olympic related on Twitter #Olympics2014.
What are some of the crazier things you've seen on Twitter during the Olympics? Share in the comments below.