Estimated reading time: 6 minutes
Study says 65% of Google searches do not click on results, Google to invest $7 Billion on post-pandemic office and pandemic unleashes new big-box era.
Study Says 65% of Google Searches Do Not Click on Results but Should They?
Throughout 2020, Google has made it easier for users to find what they need right in the SERPs, which has led to a decrease in standard "off-Google" click-through results on the platform. According to Rand Fishkin, these zero-click searches grew from around half of all searches back in 2019, to a whopping two-thirds by the end of 2020.
Many marketers are refuting these claims, stating that this is flawed data, as it is taking into account simple queries that can naturally be found right in the SERPs, but even so, marketers should be aware that less traffic is being directed to websites if the information searched for can be found directly in the SERPs.
For the report, Rand Fishkin of SparkToro reports that in August of 2019, he published research from a now-defunct clickstream data provider, Jumpshot, showing that 50.33% of all Google searches ended without a click to any web property in the results.  
New data from SimilarWeb reports that from January to December, 2020 that 65% of searches on Google (desktop and mobile combined) ended in the search results without clicking to another web property. That number is likely undercounting some mobile and nearly all voice searches, and thus it's probable that more than 2/3rds of all Google searches are what Fishkin has been calling "zero-click searches." Some folks have pointed out that "zero-click" is slightly misleading terminology, as a search ending with a click within the Google SERP itself (for example, clicking a phone number to dial a local business in the maps box) falls into this grouping.
This data isn't apples to apples with what was published in 2019. For one, the data for 2020 is worldwide vs in 2019 it was US only.
Here are the headline statistics from the data:
SimilarWeb analyzed ~5.1 trillion Google searches in 2020
Of those 5.1T searches, 33.59% resulted in clicks on organic search results
1.59% resulted in clicks on paid search results
The remaining 64.82% completed a search without a direct, follow-up click to another web property
Searches resulting in a click are much higher on desktop devices (50.75% organic CTR, 2.78% paid CTR)
Zero-click searches are much higher on mobile devices (77.22%)
Google to Invest $7 Billion in Bet on Post-Pandemic Office
Tech giant says 'coming together' is core to its culture in announcing U.S. investment
By Parmy Olson and Tripp Mickle
https://www.wsj.com/articles/google-invests-7-billion-across-u-s-as-it-bets-on-the-post-pandemic-office-11616069081
The Wall Street Journal reports that Google says it is doubling down on the office.
The Alphabet Inc. unit said it would spend $7 billion this year on expanding its footprint of offices and data centers across the U.S., including pouring $1 billion into its home state of California. The search-engine giant said it would hire at least 10,000 new full-time staff over the course of the year in anticipation of a post-pandemic recovery in the U.S.
The spending commitment follows a slowdown in investment by Google about a year ago, as the magnitude of the Covid-19 crisis was starting to take shape. Last April, Alphabet and Google Chief Executive Sundar Pichai told staff in a memo that Google would slow hiring amid the pandemic.
Like other big tech companies, Google has flourished over the past year, benefiting from an accelerated shift in online ad spending. Despite that growth, its U.S. investment planned for 2021 is lower than pre-pandemic levels; it invested an annual average of $11 billion in 2018 and 2019.
The company said this year's investment plan is aimed at existing sites but that it is also creating three new office sites, in Minnesota, Texas and North Carolina, expanding Google's presence to 19 states. The company said it would add thousands of roles at existing sites in Atlanta, Washington, D.C., Chicago and New York, extending a yearslong push to broaden its footprint beyond Silicon Valley. Alphabet reported more than 135,000 employees world-wide as of last year.
Pandemic Unleashes New Big-Box Era
Covid-19 upended consumer behavior, raising the stakes for Walmart, Target and others as spending shifts away from them this year.
By Matthew Boyle
https://www.bloomberg.com/news/features/2021-03-16/target-best-buy-walmart-how-covid-19-forever-changed-big-box-shopping?sref=3loXqR2L
Bloomberg reports that a year of Covid-19 has dramatically accelerated the transformation of big-box stores into e-commerce warehouses, causing ripple effects for hourly workers and a struggling real estate sector.
Shopping center mainstays Walmart Inc., Best Buy Co. and others are becoming fulfillment centers where workers assemble local deliveries and socially distanced consumers wait in parking spaces for their trunks to be filled. Space once devoted to t-shirts and TVs will now be used to pick and pack online orders or generate revenue by displaying ads for big brands like Samsung.
At Best Buy, the electronics retailer reduced the square footage devoted to displays by nearly half in a handful of locations. That frees up space to fulfill digital orders, which accounted for 43% of sales during the holiday quarter, up from 25% just a year ago.
Of course, smaller sales floors mean fewer salespeople are needed. Best Buy recently jettisoned 5,000 employees as it adapts to a more digital environment. It's also training its remaining employees to learn new skills, like handling video chats with customers.
International retailers are adapting as well. The European owners of the Zara and H&M apparel chains both plan to reduce their store counts in 2021 and put more focus online.
There's no going back because consumers have embraced the web like never before during the pandemic. Stores will be smaller and integrated with digital operations, or risk becoming irrelevant.
Stores in the U.S. and abroad will also increasingly serve as proving grounds for alternate, more profitable sources of revenue, such as advertising, health care and financial services. Walmart, Target and Kroger have seen the massive advertising unit Amazon.com Inc. created and want to do the same by delivering ads for big brands both online and through interactive displays in their stores. Walmart said last month that its nascent advertising platform, Walmart Connect, will be bigger than those of media giants like Fox Corp. and Twitter Inc. within five years.
"People don't buy what you do, they buy why you do it."
-Simon Sinek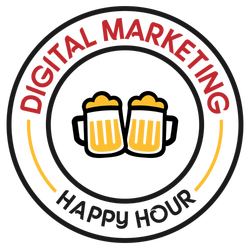 If you feel like you learned something of value or maybe laughed a little, would you please consider leaving a rating and review?
Finally, if you haven't done so already, please subscribe to the podcast, so that you don't miss another episode. It's a seamless way to stay informed and up-to-date on digital marketing.
Have any topic ideas you'd like to learn more about or have feedback from this episode?
Send an email to podcast@araxam.com
Subscribe
Apple, Spotify, iHeart, Stitcher, Audible or whatever podcast platform you prefer.
Recommended articles you may enjoy: