Estimated reading time: 6 minutes
Mark Zuckerberg reportedly wanted Facebook to 'inflict pain' on Apple
By Noah Manskar
https://nypost.com/2021/02/16/mark-zuckerberg-wanted-facebook-to-inflict-pain-on-apple-report/
Apple's public jabs at Facebook rankled CEO Mark Zuckerberg so much that he once said the social network needed "to inflict pain" on the iPhone maker, according to a report.
The reported comment was a harbinger of a bitter feud between the two tech titans that's recently burst into public view after simmering behind the scenes for years.
Zuckerberg expressed his desire for vengeance after Apple chief Tim Cook panned Facebook's data collection practices amid the Cambridge Analytica scandal in 2018, according to the Wall Street Journal (paywall).
Asked how he would respond to the revelation that the political consulting firm had misused data from millions of Facebook users, Cook simply said he "wouldn't be in this situation."
In his public retort, Zuckerberg called Cook's comment "glib" and "not at all aligned with the truth." But he later seethed in a private meeting that Facebook needed to strike back at Apple for treating the social media giant so poorly, the Journal reported Saturday, citing people familiar with the exchange.
It's unclear when exactly that meeting took place and what its purpose was. But it was just one episode in a battle over privacy, commerce and corporate responsibility that's heated up over Apple's efforts to prevent apps from secretly tracking people's data.
Rupert Murdoch's News Corp., Google reach deal on payments for journalism
By Meg James
https://www.latimes.com/entertainment-arts/business/story/2021-02-17/rupert-murdoch-news-corp-google-deal-journalism
Rupert Murdoch's News Corp. has reached an agreement with Google Inc. for the tech giant to pay for digital distribution of the publishing company's news articles.
The landmark deal, announced Wednesday, comes after a 14-year-plus campaign by Murdoch and his lieutenant, News Corp. Chief Executive Robert Thomson, for Google and other technology giants to compensate publishers for the use of their journalism.
Google and Facebook have freely distributed news stories despite a steep decline in the publishing industry, which has been ravaged by a loss of advertising dollars that instead have gone to Google, Facebook and other online sites. Murdoch and Thomson have long believed that Google and other Silicon Valley platforms were unfairly profiting from the work of professional journalists.
Under the three-year agreement, News Corp. said it will receive payment when stories from its publications, including the Wall Street Journal, Barron's, MarketWatch, New York Post, the Times of London, the Sun tabloid in London and dozens of papers in Australia, are featured in the Google News Showcase. News Corp. said the payments would be "significant."
The pact comes amid a push for sweeping new regulations in Murdoch's homeland of Australia, where the government has been poised to crack down on tech giants by forcing them to pay local news outlets for featuring and linking to their stories. Negotiations had been tense. Last month, Google threatened to pull its search engine out of Australia if the nation's legislators adopted the proposed measures.
Facebook will block Australian users and publishers from sharing news links in response to new bill
By Nick Statt
https://www.theverge.com/2021/2/17/22287776/facebook-block-news-australia-regulation-media-link-sharing
Facebook has decided to block both Australian users and media companies from sharing links to news articles and related content on its main social network, following the country's proposed landmark regulatory measure that would force tech giants to pay Australian news organizations for using their content.
The bill passed the Australian House of Representatives today and is believed to have enough votes to pass the Senate, The New York Times reported. The bill also targets Google, which at one point last month threatened to leave the country entirely. However, Google has since decided to start cutting deals with major Australian media organizations, like Rupert Murdoch's News Corp., to comply. Facebook, it appears, will not follow suit — for now.
"The proposed law fundamentally misunderstands the relationship between our platform and publishers who use it to share news content," reads a blog post from William Easton, the managing director of Facebook Australia & New Zealand. "It has left us facing a stark choice: attempt to comply with a law that ignores the realities of this relationship, or stop allowing news content on our services in Australia. With a heavy heart, we are choosing the latter."
The policy change from Facebook will have stark consequences for both users and media organizations.
LiveRamp pushes ahead with alternative to third-party cookies
By Kim Davis
https://martechtoday.com/liveramps-alternative-to-third-party-cookies-246465
LiveRamp, one of the biggest players in the data-driven CX (customer experience) space, has identified an alternative to third-party cookies known as Authenticated Traffic Solution, or ATS.
Travis Clinger, SVP, Addressability and Ecosystem at LiveRamp said "We've been investing substantially over the past four years in our authenticated traffic solution, ATS, which enables publishers to connect their first-party identities (a user log in on the New York Times, for example, or the Washington Post) to our people-based platform. As we see the end of the third-party cookie looming, and the changes to the IDFA happening this spring, we expect to continue to scale ATS. Already we have about one in five people logging in on the ATS network, and we expect to continue scaling that over the coming months, allowing marketers to continue to connect with their consumers across any channel without the need for a third-party cookie."
Despite the opportunity ATS may offer, it's not a perfect solution. Anonymous traffic, consisting of users who don't log in to websites, eludes the grasp of ATS. Clinger agreed, but added, "a log in can be a variety of events. For example, it could be clicking a newsletter link, signing up for text alerts, or using a widget on the site to engage in comments or discussion." The idea is to have consumers enter into a value exchange with the publisher, receiving content in return for elements of their identity.
There are many contrasting viewpoints about the effectiveness of contextual advertising, the long-established practice of assuming that audiences for certain types of content will be interested in certain types of products or services. Think beer commercials during NFL games, or just "soap operas." With addressability now in question, it was inevitable that contextual advertising would get another close look.
About Digital Marketing Happy Hour: Last Call
Digital Marketing Happy Hour: Last Call is a weekly podcast episode that recaps the latest in digital marketing news, marketing technology, advertising, and more! Grab a beverage while we peruse the news and catch you up on anything you might have missed for the week of February 8, 2021.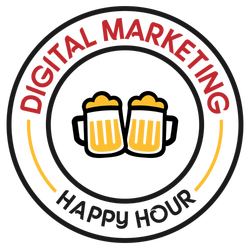 If you feel like you learned something of value or maybe laughed a little, would you please consider leaving a rating and review?
Finally, if you haven't done so already, please subscribe to the podcast, so that you don't miss another episode. It's a seamless way to stay informed and up-to-date on digital marketing.
Have any topic ideas you'd like to learn more about or have feedback from this episode?
Send an email to podcast@araxam.com
Subscribe
Apple, Spotify, iHeart, Stitcher, Audible or whatever podcast platform you prefer.
Recommended articles you may enjoy: