Facebook Considering Suing Apple Over App Store Practices, HubSpot is acquiring The Hustle, Jeff Bezos stepping down as Amazon CEO and Spotify has tripled the number of podcasts in the past year to 2.2 million.
https://w.soundcloud.com/player/?url=https%3A//api.soundcloud.com/tracks/980298385&color=%23ff5500&auto_play=true&hide_related=false&show_comments=true&show_user=true&show_reposts=false&show_teaser=true&visual=true Digital Marketing Happy Hour · Last Call: Digital Marketing News for February 8, 2021

Facebook Said to Consider Suing Apple Over App Store Practices
By The New York Times
Facebook has considered filing an antitrust lawsuit against Apple, two people familiar with the deliberations said, a move that could escalate tensions between two of the world's most powerful technology companies.
Facebook executives discussed accusing Apple of anticompetitive actions in its App Store, said the people, who spoke on the condition of anonymity because they were not authorized to speak publicly. The social network planned to say in a lawsuit that Apple gave preferential treatment to its own apps, while forcing restrictive rules onto third-party app developers like Facebook, the people said.
This week, Mr. Zuckerberg and Mr. Cook continued trading barbs.
On Wednesday, Mr. Zuckerberg said in a conference call with Wall Street analysts that he viewed Apple as one of Facebook's "biggest competitors." He cited iMessage, Apple's iPhone-specific texting service, as an existential threat to Facebook's social networking services.
He added that Apple had "every incentive to use their dominant platform position" to interfere with Facebook and other apps. Apple regularly treats its own apps more favorably in the App Store, he said.
On Thursday, Mr. Cook, speaking at an European data protection conference, said Apple's new tracking features for apps and the new privacy labels were necessary because of a "data industrial complex" that has compromised consumer privacy.
"It seems no piece of information is too private or personal to be surveilled, monetized and aggregated into a 360-degree view of your life," Mr. Cook said. "Some may think that sharing this degree of information may be worth it for more targeted ads. Many others, I suspect, will not."
HubSpot is acquiring The Hustle
By Axios
https://www.axios.com/hubspot-acquisition-the-hustle-0e1743eb-d29c-4caf-a419-7fd2584b1307.html
HubSpot, a publicly-traded sales and marketing software company, is acquiring The Hustle, an email newsletter and content company targeted at entrepreneurs and small business owners, The deal is expected to close next week.
Why it matters: Hubspot has long invested in using content to help educate its existing and potential customers about business trends, primarily through its web blog. The deal will help it double down on that effort. The Hustle's daily business newsletter has more than 1.5 million subscribers.
The deal could also help HubSpot generate leads to acquire more customers without having to pay for lots of ads on Google and Facebook.
Details: The deal is valued at roughly $27 million.
The Hustle makes most of its money from advertising and a small portion from subscriptions to its premium research arm called Trends. Its events business was sizable, but has been impacted by the pandemic.
The company has raised a little over $1 million in funding from seed rounds. Sources say the company is profitable.
All of the company's roughly 30 full-time employees are expect to remain.
The big picture: Niche media is becoming a powerful customer acquisition tool and retention tool.
For example, Penn National, a casino operator, invested $163 million in Barstool Sports for a 36% equity stake. Its ownership presumably will help it lure sports bettors.
Jeff Bezos stepping down as Amazon CEO
https://www.axios.com/amazon-jeff-bezos-ceo-executive-chair-064b5182-cef8-4bec-8046-117b0f2827a0.html
By Axios
Amazon announced on Tuesday that founder Jeff Bezos will step down as CEO in the third quarter of this year and transition to executive chair of the company's board.

The big picture: Bezos will be replaced by Amazon Web Services chief Andy Jassy, who heads the booming cloud business division.
Why it matters, via Axios' Sara Fischer: Jassy's promotion shows how important Amazon's booming cloud business has become.
What Jeff Bezos is saying: "Amazon is what it is because of invention. We do crazy things together and then make them normal," Bezos said in a statement. "If you do it right, a few years after a surprising invention, the new thing has become normal.
By the numbers: Amazon also announced net sales increasing to $125.6 billion in the fourth quarter, compared to $84.4 billion in the fourth quarter of 2019, and net sales in 2020 increased to $386.1 billion compared to $280.5 billion in 2019.
Spotify has tripled number of podcasts in past year to 2.2 million
By Axios
https://www.axios.com/spotify-podcasts-number-6c06a71f-6548-4f03-b7e1-5c9e71814f62.html
Spotify has tripled the number of podcasts on its platform in the past year from 700,000 in Q4 2019 to 2.2. million today, the company announced on its Q4 earnings call Wednesday.
Why it matters: Spotify CEO Daniel Ek told investors that podcasts and podcast usage are "highly correlated to user attention and growth" overall on Spotify, which is still primarily used to stream music.
Details:
Spotify said its primary focus is turning its massive existing user base into podcast users to increase engagement.
"We want to make our platform the de facto platform for podcasts for Spotify users," Spotify's CFO Paul Vogel said on an investor call.
By the numbers: Spotify said that 25% of its total monthly active users engaged with podcast content in Q4, up from 22% in Q3 2020.
Podcast consumption hours in Q4 2020 have nearly doubled since Q4 2019.
Ek said more people at the company are focused on producing podcasts now than ever. "Three years ago, fewer than 30 people were actively producing content for the service," he said on the call. "That number is now closer to 1,000 people."
Spotify's enormous investments in original and exclusive podcasts are driving an uptick in engagement, Ek said. In the past year, the company has inked exclusive deals with major personalities ranging from Michelle Obama to Kim Kardashian.
Vogel noted that Spotify's exclusive podcast deal with popular podcaster Joe Rogan in particular has "contributed positively to user growth on the platform."
"Part of the strategy when we bring someone like that on the platform is that it brings new people on, and it creates a better experience for those on platform whereby attention increases and churn (cancelled subscriptions) goes down," Vogel said.
Catch up quick: Spotify has also made huge investments in podcasting infrastructure over the past two years, leaving the platform poised to become a leader in audio production and advertising.
About Digital Marketing Happy Hour: Last Call
Digital Marketing Happy Hour: Last Call is a weekly podcast episode that recaps the latest in digital marketing news, marketing technology, advertising, and more! Grab a beverage while we peruse the news and catch you up on anything you might have missed for the week of February 8, 2021.
Finally, if you haven't done so already, please subscribe to the podcast, so that you don't miss another episode. It's a seamless way to stay informed and up-to-date on digital marketing.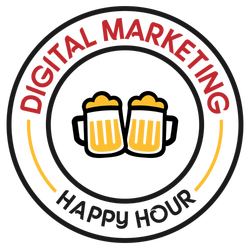 If you feel like you learned something of value or maybe laughed a little, would you please consider leaving a rating and review?
Have any topic ideas you'd like to learn more about or have feedback from this episode?
Send an email to podcast@araxam.com
Subscribe
Apple, Spotify, iHeart, Stitcher, Audible or whatever podcast platform you prefer.
Recommended articles you may enjoy: