Estimated reading time: 9 minutes
Google says it may have found a privacy-friendly substitute for cookies, Disney+ hits 95 million subscribers, Marketers say COVID vaccines create hope for a quick return of in-person events, and Pinterest closes in on TikTok & Snapchat with +37% monthly users.
Google says it may have found a privacy-friendly substitute to cookies
By Sara Fischer
https://www.yahoo.com/entertainment/google-says-may-found-privacy-130051283.html
Google on Monday said new test results show promising signs that the technology it's hoping will replace cookie-based ad targeting is working.
Why it matters: Google and web browser rivals Apple and Mozilla have all introduced sweeping privacy changes recently that will collectively phase out cookies, an internet tracking tool that tracks users' web browsing history.
Catch up quick: Cookies are considered third-party data, or user data that's collected indirectly from users via browsers or websites. Third-party data is often bought and sold at scale via online data exchanges.
For decades, cookies have been the primary way most advertisers target users online, but privacy concerns are making it less viable going forward.
Finding a replacement for cookies is a massive challenge, given that the entire digital ad ecosystem, worth $330 USD globally, has been mostly built around cookies.
Details: Google has been testing a new API (a software interface) called Federated Learning of Cohorts (FLoC) that acts as an effective replacement signal for third-party cookies. The API exists as a browser extension within Google Chrome.
The company said Monday that tests of FLoC to reach audiences show that advertisers can expect to see at least 95% of the conversions per dollar spent on ads when compared to cookie-based advertising.
FLoC uses machine learning algorithms to analyze user data and then create a group of thousands of people based off of the sites that an individual visits. The data gathered locally from the browser is never shared. Instead, the data from the much wider cohort of thousands of people is shared, and that is then used to target ads.
The big picture: Google's privacy efforts are happening alongside sweeping changes from Apple that similarly make it harder to track individual user data online. These major changes come amid a privacy reckoning in the U.S. and in Europe over online data.
Google is trying to implement a more gradual and collaborative approach to its privacy changes than Apple, which has been criticized — mostly by Facebook — for rolling out sweeping changes to its "Identifier for Advertisers" (IDFA) user tracking feature without providing advertisers a better alternative.
Chetna Bindra, Google's head of user trust and privacy for advertising, told Axios that an industry-first approach made more sense for Google.
"The way we see it is that there is a lot of technical innovation at the heart of this, and what we've been focusing on is not blocking 3rd-party cookies right away," she said. "We are intent on engaging the entire advertising community and really leaning into the kind of collaboration that's critical to make such massive change."
What's next: Google has other proposals to replace cookies in the works, so it's not guaranteed that FLoC will be the answer, but the company said it's highly encouraged by what it has seen so far.
Disney+ hits 95 million subscribers
By Alexandra Steigrad
https://nypost.com/2021/02/11/disney-hits-95-million-subscribers/
Pandemic-stricken Disney posted a surprise first-quarter profit Thursday, boosted by strength at streaming service Disney+, which added more than 21 million new subscribers.
Disney said overall that it amassed nearly 95 million Disney+ subscribers by the end of Jan. 2, compared with just under 74 million subscribers at the end of the fourth quarter.
The rapid growth of Disney+ also was lifted by Disney Plus Hotstar in India and Indonesia, which accounted for about 30 percent of the streamer's total customers.
Disney+, which launched in November 2019, has grown quickly and is considered a viable rival for streaming giant Netflix, which has amassed more than 200 million global subscribers. In its short lifespan, Disney+ has exceeded the company's initial subscriber goal of 60 million to 90 million by 2024. Now it expects Disney+ to have 230 million to 260 million subscribers by 2024.
The streaming service has been a rare bright spot for the Mouse House, which has seen massive slowdown in its theme parks and movie business due to pandemic. Last fall, the company began restructuring its media and entertainment divisions to focus more on Disney+.
The company said growth at service gave Disney its first profit after it reported two quarterly losses in a row.
For the period, Disney logged a profit of $17 million, or a penny a share versus a pre-pandemic year-ago first quarter, which amassed a $2.11 billion profit or $1.16 a share. Adjusted earnings were 32 cents, better than Wall Street's expectation of a loss of 41 cents.
Total revenue at Disney fell 22 percent to $16.25 billion, with revenue dropping in both the company's media and entertainment distribution and its parks, experiences and products segments. In the latter, revenue sank by more than half. Analysts predicted revenue of $15.93 billion.
Disney continues its focus on the streaming service as it plans for around 100 film and television projects, of which 80 percent are set to go directly to Disney+. This includes nearly a dozen Marvel series and more than 10 Star Wars shows.
Marketers say COVID vaccines create hope for quick return of in-person events
By Henry Powderly
https://marketingland.com/marketers-say-covid-vaccines-create-hope-for-quick-return-of-in-person-events-284017
"We can't wait to come back," says Michael Bartholow about attending in-person conferences. "It's really one of the best parts of a lot of our jobs."
But asked when he will feel safe to attend events, the marketing and education director at digital experience agency Bounteous is far less certain.
"A few marketing events in the industry are really excited to get back together in May of this year, and that seems really optimistic to me."
With COVID-19 vaccinations underway globally and throughout the United States, marketers are indeed seeing an end to conditions that have made business travel to training seminars, conferences and trade shows unsafe. Caution is still reigning in the short term, but optimism is painting their longer-term views.
Nearly 75% of marketers they surveyed in the beginning of 2021 said it was highly unlikely they would attend in-person events in the first half of the year. But that dropped to about 20% when asked about the second half. In fact, 20% of the nearly 200 marketers polled said they felt there was a 5-in-10 chance they would feel safe to travel to events. Even more surprising, 15% of the group said it was "extremely likely."
That confidence is likely tied to how much comfort the vaccine brings. About 78% of those we surveyed in this latest Events Participation Index said they plan to get vaccinated. Others said they were unsure and only 6% said they would not get vaccinated. Of those who said they would get vaccinated, 13% said they would feel safe immediately (assuming that means after the 2nd booster), 37% said they would feel safe after a month and 29% said they would feel safe after 6 months.
Among the 30% of those marketers we surveyed who said they prefer virtual events to in-person ones, many cited features like convenience, limited environmental impact, ease in asking questions and, of course, lower cost.
We also found 70% of attendees said they would pay between $99 and $499 to attend virtual events. That's a fraction of what many event organizers charged for in-person experiences, but the lower expenses tied to virtual events do give organizers a chance to make them profitable.
Let's be realistic. While 30% in our survey picked virtual events as their preferred experiences, that means 70% said in-person will always offer them more value. Most cited networking and person-to-person connections at in-person shows, while others pointed out how easy it is to get distracted when an event is another open browser tab in Chrome. But 2021 might not be the year when it all comes roaring back.
"I know everyone's anxious and eager, but let everyone get vaccinated and let this thing come right down so that, honestly speaking, it becomes like the flu and is not so deadly and so severe," said Panday, who, along with his wife, recovered from COVID-19 this year.
Pinterest Closes In On TikTok & Snapchat with +37% Monthly Users
By Rebekah Dunne
https://www.searchenginejournal.com/pinterest-growing-globally/395192/#close
Pinterest continues to build its audience and add features to help marketers connect with Pinners, as monthly active use and revenue grow.
Not sure whether your brand will find an audience on Pinterest?
New figures from the visual social network suggest it's easier than ever before, as monthly average users (MAUs) have increased 37% globally.
Although U.S. Pinterest users have grown slower than its international audience, Americans remain the primary source of Pinterest's revenue and a goldmine of opportunity for marketers to reach and inspire new audiences.
New figures from the visual social network suggest it's easier than ever before, as monthly average users (MAUs) have increased 37% globally.
Although U.S. Pinterest users have grown slower than its international audience, Americans remain the primary source of Pinterest's revenue and a goldmine of opportunity for marketers to reach and inspire new audiences.
Pinterest reported $582M in Q4 2020 revenue from the U.S., and an additional $123M worldwide.
With growth in every quarter, Pinterest grew its revenue from just over $1B in 2019 to $1.69B for 2020.
This active user volume puts Pinterest in the same popularity realm as TikTok, which was reported to have approximately 100 million users as of August 2020.
Similarly, Snapchat was reported to have 108 million U.S. users in January 2021.
Women were the primary audience to embrace Pinterest when the platform first launched, and still account for 60% of the global platform's users; however, the company stated in a post on 31st July last year that:
"Gen Z and Millennials are driving much of our growth, with the number of men on Pinterest also jumping nearly 50% year on year, too."
Last October, the platform also stated that:
"Pinners engaging with shopping surfaces on Pinterest has grown over 85% in the past six months."
According to Pinterest, Gen Z pinners are driving the popularity of beauty trends such as 'Indie beauty' and 'Rainbrows.'
About Digital Marketing Happy Hour: Last Call
Digital Marketing Happy Hour: Last Call is a weekly podcast episode that recaps the latest in digital marketing news, marketing technology, advertising, and more! Grab a beverage while we peruse the news and catch you up on anything you might have missed for the week of February 8, 2021.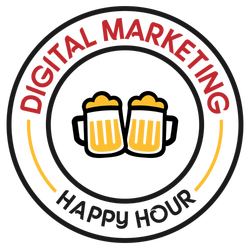 If you feel like you learned something of value or maybe laughed a little, would you please consider leaving a rating and review?
Finally, if you haven't done so already, please subscribe to the podcast, so that you don't miss another episode. It's a seamless way to stay informed and up-to-date on digital marketing.
Have any topic ideas you'd like to learn more about or have feedback from this episode?
Send an email to podcast@araxam.com
Subscribe
Apple, Spotify, iHeart, Stitcher, Audible or whatever podcast platform you prefer.
Recommended articles you may enjoy: